Welcome to the AMA Japan College Campus
Student Dormitory and Rental Apartments
Student Dormitory
House Name
AMA Dormitory
Application
Fees
None.
Minimum contract is 3 months.
Rental Fee
56,000 Yen per month (plus tax)
This rent includes water, electricity, and Internet Access.
Included
Amenities
Bed, Refrigerator, Air Conditioner, Microwave Oven,
Hot Water Kettle, and Nearby Bicycle Parking, and Free WiFi.
3 to persons per room
Other
Includes 3 meals per day.
The AMA Japan College is next door
Example of our Rental Apartments
Deposit
One month's rent.
Minimum contract is 3 months
Rent
30,000 Yen per month (plus tax)
Water & Electricity will be billed separately
Included
Amenities
Bed, Refrigerator, Microwave Oven, Air Conditioner, and Shared Bicycle Parking
2 persons per room
Other
20-minute commute to school by bicycle.
Dorm and Apartment contracts do NOT include bedding, blankets or futons. Please buy your own futons set or sheets, pillows and bedding when you arrive.
● Room and roommate preferences will be considered in assigning rooms, but can NOT be guaranteed.
● Room availability is limited in the dormitory. Not everyone can get a dormitory room.
● Residents will be liable (and billed separately) for any damage to the building or furniture beyond normal use or natural disaster, etc.
● Residents who wish to move out early must notify us at least one month in advance.
● The last day of a contract will be the last day of a calendar month.
Students interested in renting apartments or dormitory rooms should contact us at least one month before the entrance ceremony.
Student Dormitory
A typical bedroom in the AMA Dormitory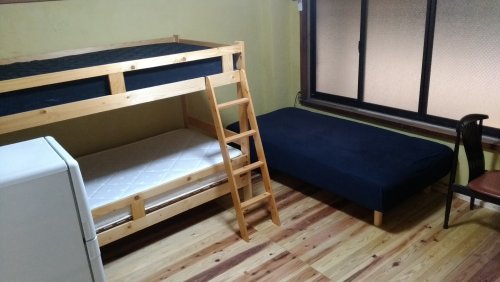 Student Apartments
Rooms in one of our typical apartments
The AMA Dormitory Cafeteria (AMANO Cafe)
Adjacent to AMA Japan College is a restaurant that offers meals to students who live in the student dormitories. It also operates as a café used by the neighbors. Here you can hang out, do your homework, or practice your Japanese with locals of Amagasaki.
Nearby Shopping
Near the Apartments are a CostCo , an EON Department Store and much more. These are great places to get big discounts on your groceries, daily necessities, clothes, etc. Nearby the school, there is a shopping street lined with lots of stores and small shops. Along these streets are a dozens of restaurants, and few big supermarkets. There is also a three "100 Yen Shops" that are always popular with students on a budget. Indeed, we think you will find it convenient to eat and shop right here in the neighborhood of the apartments and the school.
Student and Teacher Reference Library
AMA Japan College has a library facility with various types of Japanese books. There are study books for IT, medicine, and Japanese. Students can acquire not only Japanese skills but also professional skills. Students welcome to use the PC's and printers installed in the library.